Jin Shin Do® Foundation for Bodymind Acupressure®

What is Jin Shin Do® Acupressure?:
Code of Ethics:
Jin Shin Do® Acupressure Products:
Jin Shin Do® Acupressure Classes:
Jin Shin Do® Acupressure Sessions:
About the Jin Shin Do® Foundation for Bodymind Acupressure®:
Contact Us / Request Information
You can reach us at:
Iona Marsaa Teeguarden
, M.A., Executive Director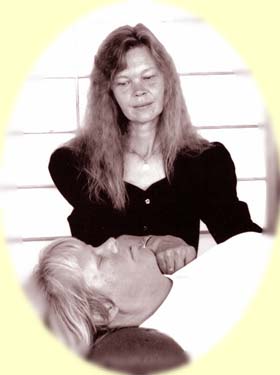 "Jin Shin Do" means "The Way of the Compassionate Spirit." Jin Shin Do® Bodymind Acupressure® classes teach the use of gentle yet deep finger pressure on specific acu-points and verbal Body Focusing techniques, to help release "armoring" or chronic tension, balance the "Qi" or energy, and improve vitality. This clothes-on method helps relieve stress and trauma related problems.

A unique synthesis of a traditional Japanese acupressure technique, classic Chinese acupuncture and acupressure theory, Taoist philosophy, Qigong (breathing and exercise techniques), Reichian segmental theory and principles of Ericksonian psychotherapy, it is recognized as a major form of Asian Bodywork Therapy (by NCCAOM® & AOBTA® among others). Originated by psychotherapist Iona Marsaa Teeguarden, JSD® Acupressure promotes a pleasant trancelike state, in which one can relax and move out of the head and into the body, accessing feelings and inner wisdom.

The Jin Shin Do® Foundation was founded in 1982.

Teachers and Practitioners Worldwide


Jin Shin Do® Acupressure is not intended for the diagnosis, treatment or cure of disease. It is a relaxation therapy, and a useful adjunct to licensed, qualified medical or psychological care. For any persistent pain or symptom, even a seemingly minor one, the reader is strongly encouraged to consult a medical doctor. When used in conjunction with standard medical treatment, the Jin Shin Do Acupressure technique can assist the healing process by releasing tension, decreasing stress and encouraging a sense of increased well-being.
Copyright © 1999 - 2013 Jin Shin Do® Foundation.
All rights reserved.